Heart in the Clouds is a textile art collection that I designed to be displayed in a gallery setting.  Each of the pieces in this collection are unique and one of a kind.  Inspired by bright colors, themes of meditation and self-love, and a passion for textile based art forms, I endeavored to create a collection that would exemplify my artistic talent and show my ability to create.
When I began ideating for this collection I gained my inspiration from a oil pastel drawing that I had created a month prior.  I loved this small drawing and thought it would be a great idea to be expanded on.  I then came up with eight different drawings all inspired by the original that explored the themes of meditation and self-love.
After coming up with eight drawings, I chose five  that I would continue to work with and eventually turn into textiles.  The next step in my process was coloration.  I chose to work with posca paint markers because I love their vibrancy and opacity.  These five drawings that the final five that I chose to move forward with.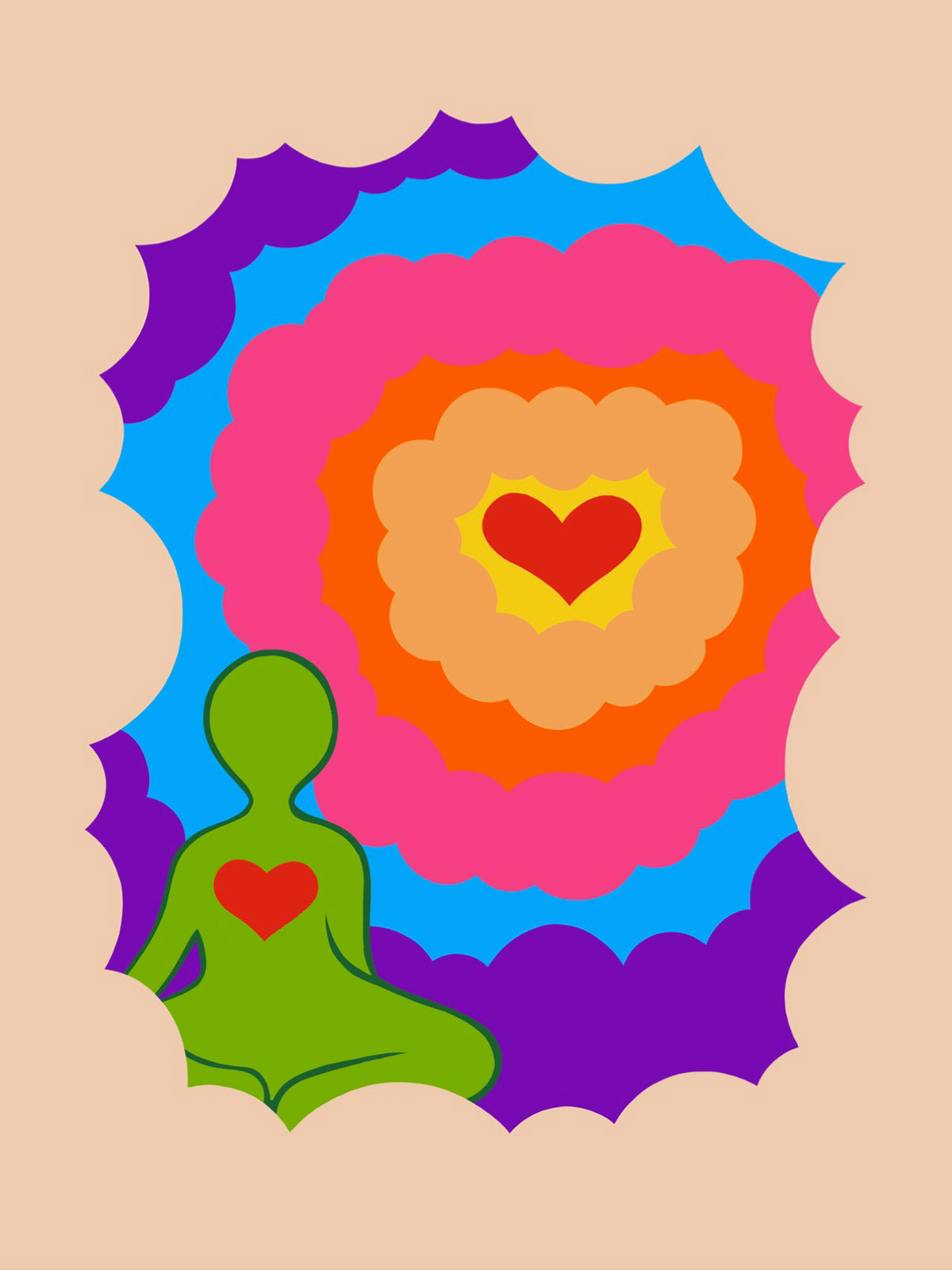 After I completed drawing and coloring the five drawings that I chose to move forward with, I decided to digitize the drawings in procreate and recolor them from the same color palette.  I chose to do this because I knew they would look cleaner, the colors would be more vibrant, and it also made it possible for me to project my artwork onto bigger canvases.
The next step in my process was assigning each piece a textile art form.  In the end I decided to do two needle punched rugs (shown above).  For both of these rugs, I stretched monks cloth across a frame and I used a needle punch tool to punch acrylic yarn through the cloth and fill up each color space.
Dimensions: 19 x 24''
Both of these pieces were created through a technique called appliqué quilting.  This is a form of quilting that allows for more contemporary design and rounder shapes then traditional quilting.  For both of these quilts, I projected my image onto muslin fabric and cut the fabric into the shapes I wanted before sewing each layer together.  I finished the quilt by applying embroidery stitching and a final backing.

Dimensions: 2 x 3'
The final piece in my collection is a pictorial tapestry weaving.  This piece was created on a small hand tapestry looms using cotton yarn for both the warp and the weft.  I used a simple plain weave technique for the image on the weaving and a rya technique for the bottom portion.
Dimensions: 16 x 24''